Heffys Wins another 1st Place Scovie Award!
This post was written by Mike Farag on November 10, 2011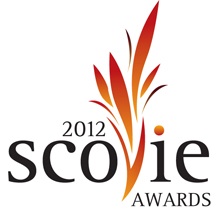 Heffys BBQ Co. WINS 1st Place for All-Natural Hot and 2nd Place for Product Packaging AT WORLD'S MOST COMPETITIVE FIERY FOODS CONTEST!
The 2012 Scovie Awards judging panel of top culinary experts honored Heffys BBQ Co. with our second 1st place award in the last 3 years.  Well put it right next to the other 1st Place Award in the All-Natural Hot award from 2009.
The competition was particularly fierce for the 2012 awards, with product entries up 177 over 2011. In all, 161 companies entered 792 products for a chance at Scovie glory. Dave DeWitt, founder of the Scovie Awards and National Fiery Foods and Barbecue Show said entries came from 38 states and four countries including Australia, Sweden, Canada and the United States.
DeWitt, the "Pope of Peppers," was pleased with the variety and quality of the entries. "It's thrilling to see more entries than ever in our sixteenth year of the Scovie Awards. I'm always impressed by the creative new ideas and delicious ways people showcase fiery foods," DeWitt said.
Guests can sample and buy Scovie Award-winning products at the upcoming 2012 National Fiery Foods & Barbecue Show (March 2-4, 2012) at Sandia Resort and Casino in Albuquerque, New Mexico. Vendors from across the country will be in attendance. For more information please visit:www.fieryfoodsshow.com, there is a good chance you might just see the boys from Heffys there too.
The Scovie Awards is an annual competition created by Dave DeWitt that recognizes the top fiery foods products in the world. The awards were named after the Scoville scale, a measurement of the spicy heat of a chile pepper. It is one of the most competitive blind tasted food competitions. Hundred of products are entered and go through rigorous tastings to receive the top honors. The Scovie Awards take place annually in the month of October. For more information, visit www.scovieawards.com.
Tweet
This entry was posted on Thursday, November 10th, 2011 at 3:02 pm and is filed under BBQ News, Front Page News, Heffys News. You can follow any responses to this entry through the RSS 2.0 feed. You can leave a response, or trackback from your own site.